1. Do you charge for estimates?
No, we will look at an electrical or generator job free of charge.
2. Are you available for emergency service calls for my generator?
Yes, please contact our landline at 828-435-9088.
3. Are you an authorized Generac dealer and service technician?
Yes, Ben is not only a licensed and insured electrician, but he is also an authorized Generac dealer and service technician. He can maintain, troubleshoot, and complete warranty work on air cooled as well as liquid cooled Generac generators.
4. Do you offer a generator maintenance service agreement?
We do offer an annual generator maintenance service agreement, which provides you with a generator labor discount as well as priority service during an outage. However, a service agreement is not required in order to receive generator service.
5. Do you offer remote monitoring of a generator so I can have peace of mind that it will be taken care of whether I'm there or not?
Yes, if your Generac generator is compatible, we can ensure that your generator is ready to run in the event of an outage. We are able to change your weekly test cycles, run your generator with the click of a button as well as reset general faults without ever leaving the office. We offer Wi-Fi connection (where available) as well as a 4G LTE connection. We are alerted to issues with your unit and can dispatch as needed without you needing to worry about the status of your unit. We can also monitor your propane level to assist you with making sure you obtain timely deliveries.
6. Do you offer financing for generator installation?
Yes, we proudly offer financing through Synchrony Bank. Please give us a call to discuss investing in the future for you, your family, and your home.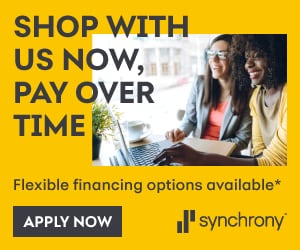 Click the apply now button or scan the QR code to apply!
7. Do you do residential electrical work?
Yes! We are a full-service electrical contractor that does residential electrical, light industrial and commercial work.